Scenery Workshop BV
The place for making scenery and dioramas for your tabletop miniature wargame with wide range of products. All products that you see in this shop and have the status "in stock", are immediately available, as our inventory level is directly linked to the content of the web shop. This makes you almost always sure that your order will certainly be delivered in time.

We strive to provide an interesting and complete range that is now available, allowing you to work in order to create your own scenery and terrain for miniature games. Whether you're a lover of fantasy, sci-fi or Historical battles, here you will find everything to make this an even greater success.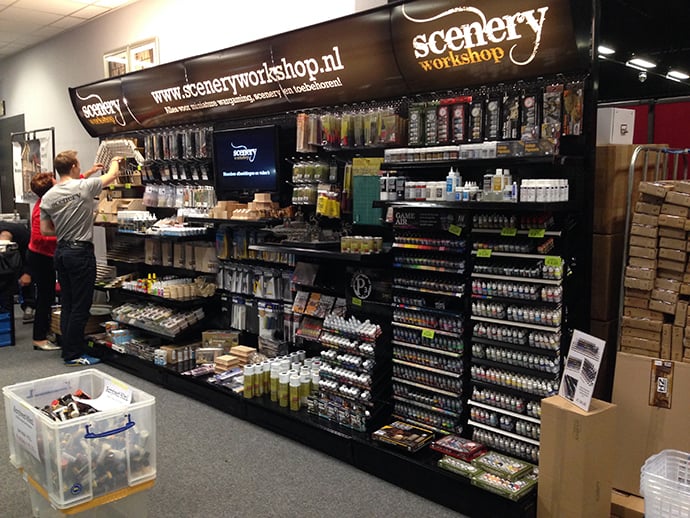 Scenery
Scenery often also called terrain, terrain or diorama helps a miniature gamer even more to come in the atmosphere of the game. By proper terrain (roads, rivers, mountains, forests, etc.) and associated buildings (towers, cathedrals, walls, etc.) to be used and more fun and interesting to play your game. 


Garden of Morr (Games Workshop Citadel) in styrodur landscape

Workshop
The term workshop can be interpreted in many ways. The creative aspect of the hobby makes it fun for many. We therefore provide as many interesting products that you can use this.


Versatile styrodur

Scenery Workshop BV is registered at the Chamber of Commerce Gelderland under Chamber of Commerce number: 82287775
VAT number: NL862411981B01
The office address is:
Grootstalselaan 46
6533 KK Nijmegen
The Netherlands
Tel: 024 7370271

Your call could not be answered immediately leave a message, we will call you back as soon as possible.

I wish you as much fun hobby far as I now more than 20 years experience in this hobby!

Patrick van der Heijden