Vallejo Game Air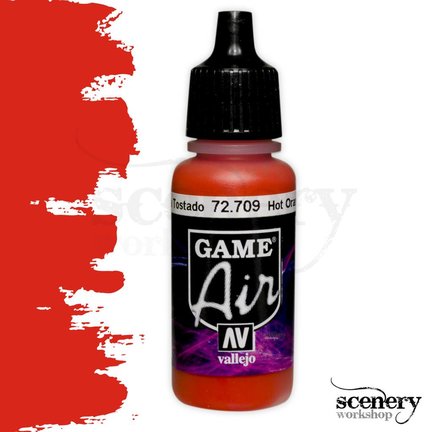 Vallejo Game Air paint has been specially developed for the airbrush, although it can also be used for painting details with a brush. The range of this matte acrylic paint is ideal for painting fantasy figures and dioramas. We have all colors available for you, but you can also order a complete Vallejo Game Air set!
Vallejo Game Air for the airbrush
The available colors are largely the same as the colors contained in the Vallejo Game Color spectrum. The difference is that the Vallejo Game Air series is made for the airbrush. The paint can be poured directly from the bottle into the airbrush!
This does not alter the fact that Vallejo Game Air paint can also be applied with a brush, although the Game Color series is more suitable for this. Nevertheless, it can be helpful when painting the smallest details!
Suitable for almost all surfaces
An important advantage of Vallejo Game Air is that it adheres to different surfaces. These are, for example, resin, steel and plastic. Details in your models remain perfectly visible after applying the paint. In addition, the end result looks super sleek.
If desired, the Game Air paint can be diluted with Vallejo Airbrush Thinner or Flow Improver. In any case, it is wise to work with several thin layers. Need advice on how to use it? We are happy to help you, so feel free to call. Or send us a message!
Complete Vallejo Game Air set
The separate bottles of Vallejo paint offer a solution when you are looking for a specific color. But there are also complete Vallejo Game Air sets available, which contain up to 60 different colors. To store the bottles well, you will also find a handy case here that can hold 80 bottles. In addition, you will find a few theme sets in our range, including for painting faces.
Order Vallejo Game Air online now
It is not without reason that the different Vallejo Game Air colors are popular with modelers. Especially fans of fantasy figures cannot get enough of it. The paint has therefore been developed in collaboration with various experienced modellers.
Simply order online and take advantage of our fast delivery. The shipping costs expire with an order from 100 euros. Do you have questions? Call or email us. We are happy to help you with ordering, but you can also contact us for more technical questions about Vallejo Game Air!
De volgende werkdag in huis
Gratis verzending vanaf € 100,-
Uniek assortiment!